Children do not generally travel abroad without their parents, and yet there are certain instances where this may be necessary. Such cases may arise where parents are divorced and children need to visit one of their parents abroad, where children want to visit loved ones abroad, or where they participate in exchange programs or summer camps.
Preparing for such occasions can be a nightmare if you're not sure what you're doing. Rand Rescue takes a look at the requirements.
Local & foreign requirements
The first place to start is to understand South African legislation around minors who exit (or enter) our borders. Secondly, the requirements for travel will be subject to the stipulations for entry by the foreign jurisdiction, so it's important to check the visa regulations.
The requirements will be determined by who, if anyone, is travelling with your child, where they're heading, the purpose of their stay and how long they'll be staying.
Documentation and consent
The following documents and consent may be required for your child's travels.
Child's passport
Both parents need to be present during the application for a minor's passport. Be sure to check whether the passport's expiry date falls within the requisite timeframe. Any passports which will expire within 6 months of travel may be considered invalid.
Absent parent
Where one parent is absent during the application or where one parent has physical custody, the absent parent will need to provide a letter of permission for the passport to be issued in their absence.
Sole custody
This is not a requirement where one parent has sole custody and the other parent is denied access to their child, but in such case the sole custodian will need to provide the court ruling to this effect.
Waiting period
A passport is generally issued within 10 – 20 days of application
Certified copy of unabridged birth certificate
Unabridged birth certificates used to be issued within 6 weeks of application, but they can be issued on the same day at most home affairs offices these days.
You will need to make a copy and notarise this when applying for your child's visa.
Certified copies of parents' passports/IDs
You will need to provide certified proof of the parents' identification – whether copies of their IDs or passports.
If one of the parents is deceased, a certified death certificate will need to be provided.
Certified parental consent form
You will need to provide a parental consent form which authorises the child to travel – whether they're travelling with one parent, with a guardian or on their own.
There are two types of parental consent forms and embassies generally only require one of these to authorise a visa. The visa issuer may provide their own consent form which will need to be signed by both parents and notarised, or parents can use the Home Affairs parental consent affidavit.
If a child is travelling with a third party or guardian, this person's information will also need to be captured on this form.
Airline requirements
Most airlines will require that parents complete an unaccompanied minor form for children under the age of 16. Airlines also have distinct requirements for such travel and parents generally need to perform the check-in an hour or so before normal check-in. This is often performed at a different airline desk than the normal check-in counters.
Copies of guardian's documents
Where children are travelling without either parent, the documents of the guardian accompanying the child will need to be provided. This includes:
– The guardian's ID document
– The guardian's visa
– The guardian's passport
Institutional confirmation
If your child is travelling as part of an academic or cultural group, this institution will need to issue a document stating their sanctioning and involvement with the travels. This document will include a full list of attendees travelling as their representatives and indicating any guardians accompanying them.
Certified copies of receiver
There may be instances where the child is not accompanied by someone for certain periods of their travels, but will be received by someone on arrival. In such instances you will need to provide copies of this person's passport and ID. You will also need to stipulate their relationship with the minor (family member, teacher, etc.)
Proof of residence
The minor's proof of residence will need to be provided. This is generally done via a copy of the parents' municipal bill (or other utility bill which indicates the address), as well as a signed affidavit. The visa issuer will generally have such forms available.
Proof of funds
Parents will need to provide proof of funds for the minor travelling abroad.
Most embassies provide stipulations for the minimum amount of funds which should be available per day of travel abroad.
Parents can provide a certified bank statement for three months preceding the travel and will also need to complete and sign a proof of funds document.
Bank requirements
You will need to consult your bank to make sure what their requirements are for use of banking cards abroad. Some banks allow the use of credit and debit cards abroad, while others issue travel cards for such purposes. Also enquire about the banking fees charged per transaction.
Travel itinerary
You will need to provide a full travel itinerary for your child from their departure until their arrival. The extent of the itinerary will depend on what your child will be doing abroad and who has organised their travel. If your child's travels are organised by a tour operator, they will generally provide the full itinerary as required for visa issuers.
If they are merely visiting relatives or friends, this itinerary may be greatly simplified.
Proof of paid-up travels
For the most part, you will need to prove that your child's travel fees have all been covered upfront. If you used a travel agency, a paid-up account statement will need to be provided.
If you arranged the travel in your own capacity, you will need to provide the invoice/account statements for the paid travel fees (air travel, land travel, sea travel, accommodation)
Air, land and sea travel
The dates and times of your child's booked flights will need to be indicated. This will include stopovers.
Additionally, you will need to provide proof of travel arrangements over land or sea for the duration of the trip.
If your child is accommodated by a friend, relative or other local host, you may need to complete an affidavit reflecting this information and indicating that such person(s) will be responsible for all travel (and related fees) during their stay.
Proof of accommodation
Proof of accommodation can be in the form of a full list of booked hotel/motel/lodge accommodation with the relevant dates and locations. If your child will be staying with friends, relatives or at an institutional venue, you will need to complete a proof of accommodation affidavit which stipulates the name(s), local identification numbers and address(es) of the person where your child will be lodging.
Certain jurisdictions will have additional declaration forms which will need to be signed by the person who will be accommodating or accompanying the minor if such person is a resident of that jurisdiction (the EU, UK and USA, for instance).
Insurance
Most countries will not allow travel or issue visas without the necessary travel and other insurance.
If your child is part of a tour group, such travel insurance will be issued by the tour organiser and this documentation needs to be provided during the visa application. Alternatively, you may enquire with the embassy in question regarding accepted travel insurance for their region.
While travel insurance generally covers medical expenses as well, it's important to notify your own medical aid about such travel (provided you are part of a medical scheme), as most medical aids extend their own medical cover for periods abroad. Whether or not you need additional medical cover – you will still need to inform your medical scheme that you are travelling abroad.
Additional cover
While this may not be a necessity, it may be wise to purchase additional cover from airlines or other transportation companies your child will be using if you're concerned about luggage getting lost or stolen abroad.
Visa photos
Your child will need to provide photos for their visa application. Be sure to check the regulations for such photos. In general the rules are:
– No obscured facial features (whether hair, glasses, headwear, scarves or other)
– No colourful backgrounds
– No photos which are outdated
Other restrictions, tips and requirements
We'll cover some other restrictions, tips and requirements for travel you and your children should be aware of in our next article, so be sure to keep an eye on our next blog.
Happy travels for your kids
We hope the information above can be of use to parents and guardians.
If you need any help with forex or tax issues around your child's travels, get in touch and we'll get back to you to discuss your options.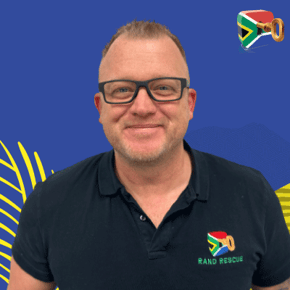 Henrico Kotze, Sales Director
Since the early days of Henrico's career, he has been drawn to the realms of asset and risk management. Recognising the pivotal role that customer service and peace of mind play, he is committed to ensuring that your risks are safeguarded and shielded at all times. His vision revolves around delivering an exceptional tailored experience to each and every customer. When Henrico himself embarked on the significant journey of relocating to New Zealand back in 2015, he found himself facing the very challenges he is well-versed in. Entrusting his financial profile to The Rand Group, he experienced firsthand the efficient management of his personal funds and the smooth execution of his financial migration process. With his role as a Director at Rand Rescue, Henrico remains dedicated to providing steadfast expertise and guidance in the field.